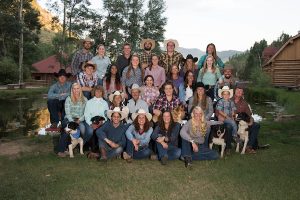 The time of year has come when we start the search. We know they're out there, we just have to find them. We'll look high. We'll look low. We'll look in our neighborhood and we might look in yours.
What are we searching for?
We're searching for the perfect combination of individuals to be our staff for the 2017 summer season.
Do you or someone you know what to give it a shot? Here are a few traits we look for in our employees:
1. You "get" teamwork. We all work together around here. Your job description might be one thing, but you will often find yourself helping with jobs unrelated to your official title. Ranch work is both unending and unpredictable at times; we often need all-hands on deck to get the job done.
2. You value hard work. Used to just doing the bare minimum? Always seeing how little you can do to get by? Then don't apply here. We need employees that make a habit out of working hard with a smile. There is something deeply satisfying about finishing your day tired, dirty, and ready for rest. You will experience that here, then you'll wake up and do it again the next day.
3. You like to shatter expectations with exceptional service. We constantly tell our staff to give our guests more than they expect. We do our darnedest to anticipate needs, fulfill them, then go one step more and give a little more. The funny thing is, the more you give of yourself here, the more you receive.
4. You like working for someone that loves what they do. Being in the business for over 40 years, Ken and Randy Sue and the family not only know the business, they love it. Their passion is apparent in everything they do. They know the guests, they know the horses, the ins and outs of the buildings, and they know the staff. The owners here are very hands on and take pride in making both the guests and staff feel part of the family for their time here. This is not just a job, it is a home and a family. If you have experienced working for someone that loves what they do, you know what a difference it makes. If you haven't, you'll find that experience here.
5. You can have fun in the mountains. The ranch is situated in one of the most beautiful parts of Colorado. The Rocky Mountains tower over our county and the Colorado River starts here too. The views are breathtaking and the trails are endless. Our happiest staff are those that want to get out and explore. From camping to fishing to hiking and biking, most of the fun around here is outside, free (or almost), and active.