Frequently, you'll see three letters around here: DWR.
What, you ask, does that stand for? Maybe Does Water Run? Maybe Dorks Wear Red? Maybe Dogs Wander Round? Nope, off target on all of those.  One meaning that applies is simple: Drowsy Water Ranch.  But that's not really what it means. Dig a little around here, and you'll learn that DWR is really an acronym for  "Dude, We're Riding".
We do a lot of that around here. And we do it well.
At Drowsy Water Ranch, we work hard to teach something about horses to each and every rider we have .  We don't care if you've never seen a horse or if you ride professionally, we want you to know that, Dude, we're serious about riding here. We have a herd of 130 horses so we can have a horse suited to almost every single kind of rider.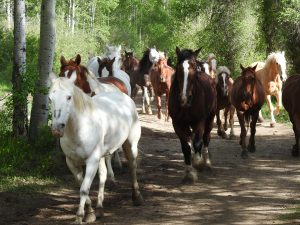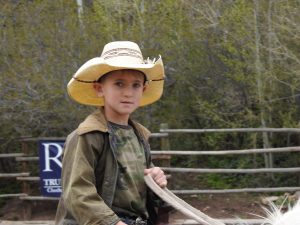 We want you relaxed and able to ride comfortably for hours up and down our surrounding mountains, through the forests, and across the creeks.  We teach western riding on horses that are experts at what they do.  We'll spend time with you to get you comfortable on and familiar with your horse.  We search out the best staff to teach you and guide you while you're in the backcountry.  We look forward to sharing this with you because that is what we're in to. After all, when you're here, Dude, We're Riding.